Microsoft's upcoming Windows 8 operating system, has been getting lots of attention lately, but Microsoft is also releasing new server operating systems this year.
Windows Server 2012 will have 4 Editions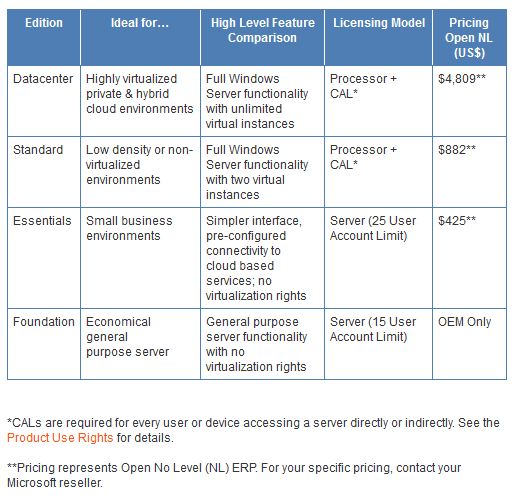 Of interesting note.  Microsoft's new Windows Server 2012 Essentials frequently asked questions (FAQ) document has the following Microsoft's statements:
Q: Will there be a next version of Windows Home Server?
A: No. Windows Home Server has seen its greatest success in small office/home office (SOHO) environments and among the technology enthusiast community. For this reason, Microsoft is combining the features that were previously only found in Windows Home Server, such as support for DLNA-compliant devices and media streaming, into Windows Server 2012 Essentials and focusing our efforts into making Windows Server 2012 Essentials the ideal first server operating system for both small business and home use—offering an intuitive administration experience, elastic and resilient storage features with Storage Spaces, and robust data protection for the server and client computers.
Q: Will there be a next version of Windows Small Business?
A: Windows Small Business Server 2011 Standard, which includes Exchange Server and Windows server component products, will be the final such Windows Server offering. This change is in response to small business market trends and behavior. The small business computing trends are moving in the direction of cloud computing for applications and services such as email, online back-up and line-of-business tools. As of the 1 August 2012, Customers will not be able to purchase SBS Server Licenses or CALs with Software Assurance. The stand alone License only SKUs still continue to be available, so customers looking to purchase with Software Assurance in order to cover themselves for the upgrades need to do so before the end of July. Open Value customers will need to ensure the agreements are signed before the end of July as well. Customer should check in on Microsoft Server & Cloud Platform Products & Solutions in the coming weeks for further updates.
Final Thoughts:
I've never been a big fan of Windows Home Server and would typically recommend a Synology NAS to anyone looking for that type of solution.     Also as someone who has deployed many SBS servers for my small business clients over the years, I can't say that I'm too surprised by this move.    This is clearly Microsoft's attempt at getting these smaller businesses to move into their Office 365 cloud services.    I've been doing the same with most of my smaller clients in recent years and moving them into various cloud based services with minimal onsite server presence.